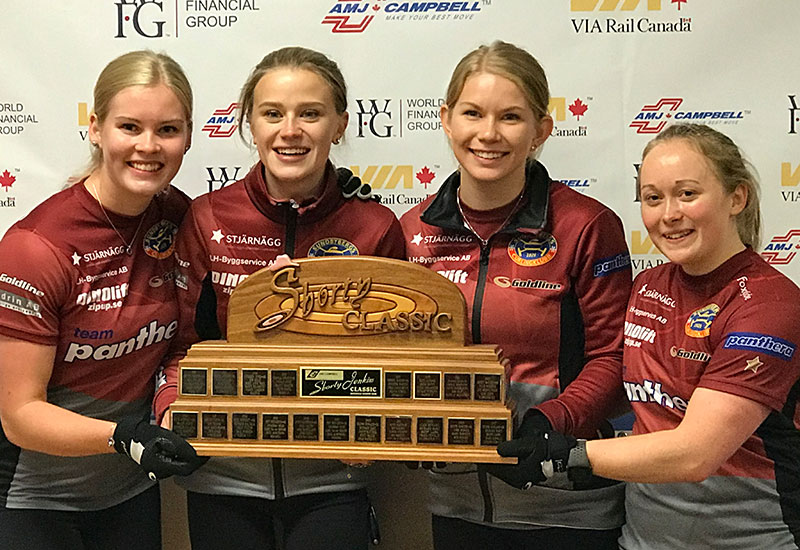 Isabella Wrana (Stockholm, Sweden) wins the AMJ Campbell Shorty Jenkins Classic, defeating Hollie Duncan (Toronto, Ontario) 5-4 in an extra end at the Cornwall Curling Club in Cornwall, Canada. Wrana with Jennie Wahlin at third, Almida de Val and Fanny Sjoberg on the front end take home the $10,400CDN first place cheque along with 53.922 world ranking points, while Duncan receives $7,400CDN and 39.543 world ranking points for their second place finish.

Starting with hammer, Wrana blanked the first end, then got on the board scoring 1 in the second end. Wrana then added a steal in the third end. Duncan scored a single in the fourth end, with Wrana scoring a single in the fifth end to lead 3-1. Wrana held to a single in the sixth end, then scored another single in the seventh end. Duncan scored 2 in the eighth end to send the game to an extra end where Wrana scored a single for the 5-4 win.

In the semifinals, Wrana defeated Jennifer Harvey (Cornwall, Ontario) 7-3 and Duncan defeated Silvana Tirinzoni (Aarau, Switzerland) 7-5. Tirinzoni earned $3,900CDN and Harvey won $3,800CDN along with 30.556 ranking points for their semifinal finishes. In the quarterfinals, Wrana defeated Mary-Anne Arsenault (Halifax, Nova Scotia) 9-6, Duncan defeated Danielle Inglis (Etobicoke, Ontario) 7-3, while Harvey defeated Jamie Sinclair (Blaine, USA) 9-5 and Tirinzoni defeated Jacqueline Harrison (Toronto, Ontario) 7-6. Sinclair, Harrison, Inglis earned $1,800CDN along with 21.569 ranking points for their quarterfinal finishes.

Wrana went 4-1 in the 18 team round robin - pools qualifying round. In their opening game, Wrana defeated Elena Stern (Oberwallis , Switzerland) 4-2, then won against Tracy Fleury (Winnipeg, Manitoba) 5-4, losing their next game to Harrison 11-6. Wrana boucned back with a 7-2 win over Hailey Armstrong (Ottawa, Ontario), then won 6-5 against Inglis in their final qualifying round match.