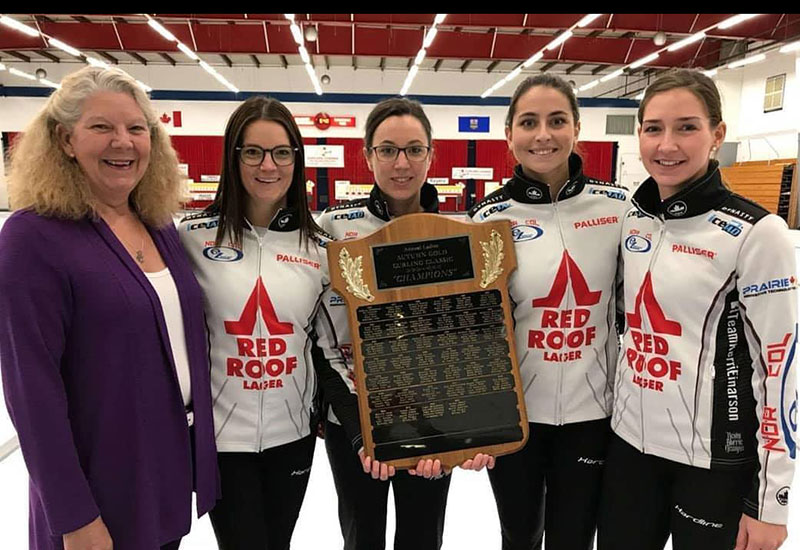 Kerri Einarson (Winnipeg, Manitoba) wins the Curlers Corner Autumn Gold Curling Classic, defeating Jennifer Jones (Winnipeg, Manitoba) 7-5 at the Calgary Curling Club in Calgary, Canada. Einarson with Val Sweeting at third, Shannon Birchard and Briane Meilleur on the front end take home the $13,500CDN first place cheque along with 74.711 world ranking points, while Jones receives $9,500CDN and 54.788 world ranking points for their second place finish.

Einarson opened the scoring stealing 2 in the first end, then forced Jones to a single in the second end. After Jones stole in the third end, Einarson responded in the fourth end scoring 2 to extend lead to 4-2. Jones scored 2 in the fifth end, with Einarson adding 2 more in the sixth end. After Jones was held to a single in the seventh end, Einarson scored a single in the eighth end for the 7-5 win.

In the semifinals, Einarson defeated Rachel Homan (Ottawa, Ontario) 7-4 and Jones defeated Tracy Fleury (East St. Paul, Manitoba) 8-6. Homan and Fleury earned $6,000CDN and 42.336 ranking points for their semifinal finishes. In the quarterfinals, Einarson defeated Casey Scheidegger (Lethbridge, Alberta) 5-4, Jones defeated Laura Walker (Edmonton, Alberta) 6-3, while Fleury defeated Satsuki Fujisawa (Kitami, Japan) 7-2 and Homan defeated Alina Kovaleva (Saint Petersburg, Russia) 7-5. Kovaleva, Walker, Scheidegger and Fujisawa earned $4,000CDN along with 29.885 ranking points for their quarterfinal finishes.

Einarson went 5-2 in the 32 team triple knockout qualifying round. In their opening game, Einarson defeated Janais DeJong (Edmonton, Alberta) 8-1, then won against Chelsea Carey (Edmonton, Alberta) 7-1 and Jones 8-2, losing their next game to Walker 9-6. Einarson lost again to Homan 6-5, then responded with a 4-2 win over Tori Koana (Yamanashi, Japan) to advance to a C-Qualifying game where Einarson won against Un-Chi Gim (Gyeonggi-do, Korea) 7-3 to reach the playoff round.