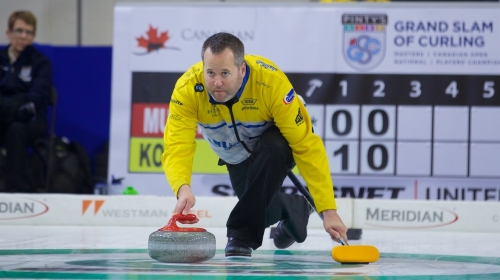 Jamie Murphy (Halifax, Nova Scotia) wins the Dave Jones Alexander Keiths Mayflower Cash Spiel, defeating Scott McDonald (Kingston, ON) 7-6 in an extra end at the Mayflower Curling Club in Halifax, Canada. Murphy with Paul Flemming at third, Scott Saccary and Philip Crowell on the front end take home the $8,000CDN first place cheque along with 27.627 world ranking points, while McDonald receives $4,000CDN and 20.260 world ranking points for their second place finish.

With Chris MacRae replacing Saccary in the final, Murphy opened the scoring getting one with hammer. McDonald responded in the second end scoring 2. then added a steal in the third end to take an early advantage. After a blank end, Murphy scored 2 in the fifth end to tie the game at 3, then forced McDonald to a single in the sixth end. Murphy broke open the game scoring 3 in the seventh end, with McDonald scoring 2 in the eighth end sending the game to an extra end. Murphy scored a single in the ninth end when McDonald attempted a double to force Murphy to hit and stay, that only removed one of the Nova Scotia stones.

In the semifinals, Murphy defeated Scott Webb (Peace River, Alberta) 7-6 and McDonald defeated Doug MacKenzie (Halifax, Nova Scotia) 5-3. MacKenzie and Webb earned $2,500CDN and 15.655 ranking points for their semifinal finishes. In the quarterfinals, Murphy defeated Jason Vaughan (Saint John, New Brunswick) 6-3, McDonald defeated Ed Cyr (Fredericton, New Brunswick) 6-4, while Webb defeated Kevin Ouellette (Halifax, Nova Scotia) 6-4 and MacKenzie defeated Chad Stevens (Halifax, Nova Scotia) 6-5. Ouellette, Cyr, Vaughan and Stevens earned $2,000CDN along with 11.051 ranking points for their quarterfinal finishes.

Murphy went 3-0 in the 16 team Triple Knockout qualifying round. In their opening game, Murphy defeated Colin Thomas (St. John's, NL) 4-3, won against Martin Crete (St-Romuald, Quebec) 6-3, and then won 6-1 against Francois Gagne (Montreal, QC) in their A-Qualifier meeting to reach the playoff round.