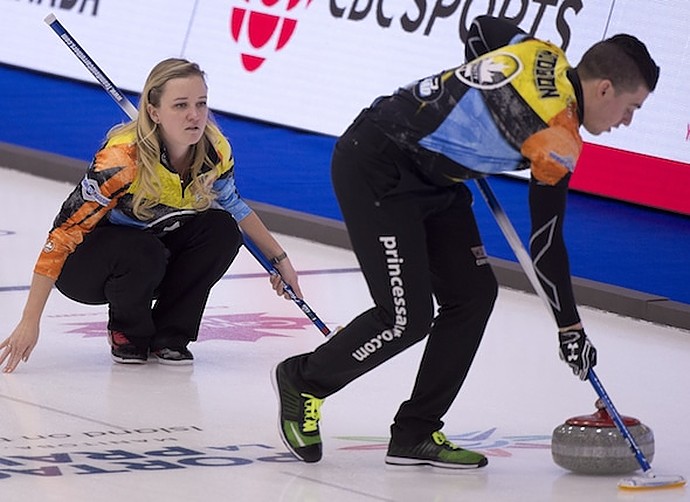 Chelsea Carey and Colin Hodgson (photo: Curling Canda) are one of the prominent teams who did not qualify to participate in last week's Canadian Mixed Doubles Curling Championship.

By: Dylan Chenier

** UPDATE: March 30, 4:30pm - Clarification made on qualification process **

Last week, some of the best curlers in the country converged on Calgary to battle for a national mixed-doubles title. The field at this year's nationals was a mixture of provincial representatives, mixed doubles specialists, and elite members of Canada's national team program.

While the field was certainly a who's who of Canadian curling greats, there were several prominent mixed doubles teams noticeably absent from the event.

Chelsea Carey and Colin Hodgson are one pairing whose absence at this year's nationals generated plenty of attention among fans, and has left many questions regarding Curling Canada's communication and decision-making processes.

For Carey and Hodgson, a lack of transparency prior to the field's formal announcement has been a source of frustration.

"It certainly wasn't transparent, different people got different information at different times. There was no general directive about how and when the criteria and the process was going to be communicated to people," said Carey.

Prior to officially stating their intent to compete in mixed doubles this year, Hodgson says that he and Carey had a number of discussions with Curling Canada about their plans.

"We started our process in the summer, we reached out to Curling Canada to let them know that we were intending to put ourselves in a position to qualify for the Olympics," Hodgson said.

"What we did was, we entered a bunch of events in the fall, we were invited to a made for TV Mixed Doubles event, that was going to be a big one, in Ontario, that didn't end up happening.

"So, from the get-go in the summer, we tried to do all our due diligence, making sure everyone knew our team was in-tact."

While the two had been in talks with Curling Canada throughout the summer months, official word regarding the 2021 mixed doubles nationals was not communicated to athletes until late fall, when officials announced that the event would be staged in the Calgary bubble.

"In December athletes received an email from Curling Canada asking for their intent to play [mixed doubles] for the season. They asked all the national team members... if they were playing mixed doubles, and who their partners were."

So, Carey and Hodgson followed Curling Canada's request and officially declared their partnership, with the hopes of securing one of the seven remaining spots in the field.

However, the following month, a rule change became public which could have significantly impacted the team's chances of qualifying for nationals.

"Towards the end of January, criteria show[ed] up on Curling Canada's [website], stating how to get into [nationals]," said Hodgson.

Of the 35 spots up for grabs, 14 teams had already qualified through their respective provincial/territorial playdowns, while another 14 pairs earned their way in through the Canadian Mixed Doubles Rankings (CMDR).

The remaining seven spots in the field were to be allocated to members of the national team program, which is how Carey and Hodgson were hoping to qualify.

"The final seven spots were for national team program members, and out of those members, it was entirely based on four-person CTRS points. There was no Mixed Doubles bearing on any of those seven spots."

As such, curlers in that final group of seven would qualify for Mixed Doubles nationals solely based on their performances in four-person curling.

Confused by whether the criteria change would impact the team's chances of qualifying for nationals, the pair continued to wait for final confirmation.

"We thought we had a pretty good chance, but we didn't know [the] other teams, and [what] other combinations that were put together," said Carey, of the team's hopes.

Given the change, the pair was optimistic they would get in, but they still weren't certain.

"It just was so unclear, we felt like we had a good chance to get in, but because we didn't know [some] of the criteria, we didn't know either way," Carey said.

"When they sent the criteria out at the end of January, nobody knew what that meant, until a few weeks ago, when they [announced] who the final seven teams were," said Hodgson.

"That was our official notification that we weren't in the event. Publicly, all the teams, even teams who previously qualified for it from last year's provincial championships, didn't know who they were curling against."

Given the fact the criteria change was announced prior to the field being formalized, Hodgson says they were unable to file an appeal within the seven-day window.

"Curling Canada's appeals process only allows seven days for an appeal to be filed, if I was to appeal a criteria change, I would have needed to know the team list in January.

"That's the unfortunate part, we didn't know if we were in or out of the event until it was too late to appeal the decision."

Hodgson says it would have been difficult to appeal the decision, without knowing whether the team had qualified.

"I just don't think that it's fair to try to appeal something, [when] you don't know whether you're in or not."

Prior to the official announcement of the field, Hodgson said the information was prematurely leaked amongst the curlers, creating another unfair situation for athletes.

"The other issue I have is that there was a list of teams that was leaked at the end of January, and by that being leaked, there are certainly teams who would have known ahead of time who was in the event and at what position.

Just as some teams were made aware of their qualifying for nationals ahead of others, Hodgson says something similar occurred with regard to Curling Canada's plans to assign Mixed Doubles ranking points at the 2021 edition of the event.

"There were certain athletes [who] asked if points were going to be part of the event, so they were told, but there was no public acknowledgement of that from Curling Canada."

"It did just show up one day on the Curling Canada website that points were being added to the event, but not all teams within the event even knew that."

The move would have significantly altered the Olympic trials qualifying process, negatively affecting those teams who were not in attendance at this year's nationals.

"By doing that, it would potentially alter the trials process. It did just show up one day on the Curling Canada website that points were being added to the event, but not all teams within the event even knew that. There was a lot of athlete conversation about why [this was] happening."

Ultimately, Curling Canada reversed their decision to include CMDR points at the 2021 nationals, creating a bit of hope that the team will still be able to qualify for the Olympic trials.

"The good news is that they did reverse the decision, that would have really hurt us, so the fact that they are at least not doing that is really helpful," said Carey.

While they are pleased with the decision to not include CMDR points, the pair acknowledges that there is still a lot of uncertainty as to how trials qualification will work.

"We're hopeful, but we still don't know what the process is going to look like," Carey said.

For Hodgson, there is concern about how the team's exclusion from this year's nationals will impact their chances at qualifying for the Olympic trials.

"There are two trials spots on the line at this event, so that takes two spots away. It sure would be nice to qualify for the event that gives these spots away."

Given the uncertainties presented by the COVID pandemic, Hodgson is unsure which events will be able to go ahead in the fall.

"We don't know what the fall looks like. It's [unclear] which events are going to be available to qualify [with]. How many spots are there? Where are they at? Is it going to be outside of the four-person?

"We just don't know enough information to really grasp what's going to happen in the fall. Unless we try to ask these questions and get answers as early as we can, we really have no idea if we have much of a chance of qualifying for the Olympic trials."

Curling Canada has laid out its plans for the 2021 Mixed Doubles Trials qualification process, which will include 16 teams from both CMDR and mixed doubles qualification events. At this time, specific details on these events are still to be determined.

The final qualification event, a Last Chance Qualifier, will take place December 10-13, 2021. Two teams will earn a spot in the Olympic trials at that event, with invites being based on CMDR rankings as of November 28th, 2021.

Hodgson and Carey will both be in action next month as part of the Grand Slam of Curling.

Hodgson will return to his familiar role as lead on team Mike McEwen at the Champions Cup and Players Championship.

Carey is set to return to Tracey Fleury's rink at the Players Championship, filling in for the skip.

Correction: This story has been updated to accurately reflect the 2021 Mixed Doubles Trials Process, which was published by Curling Canada on February 4th.