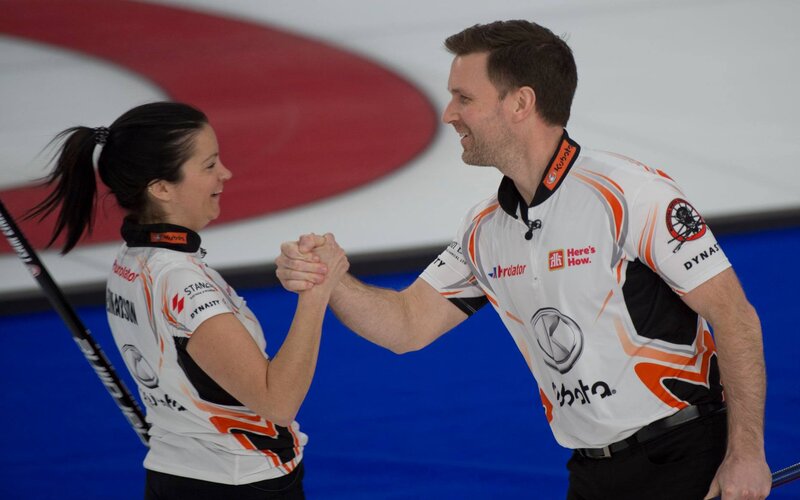 Kerri Einarson and Brad Gushue (photo: Curling Canada) defeated Kadriana Sahaidak and Colton Lott, to pick up their first-ever Canadian Mixed Doubles Curling Championship title, in their first event together as a duo.

By: Dylan Chenier

Kerri Einarson and Brad Gushue may be a very new mixed doubles pairing, but the two played like lifelong teammates en route to their first mixed doubles national title.

Einarson and Gushue got by the Manitoba duo of Kadriana Sahaidak and Colton Lott 9-6, in Thursday night's championship final.

The two got off to a strong start scoring two in the third end, and followed that up with a steal of four in the fourth end. While they would go on to score two more points in the sixth, a rare miss by Einarson allowed Sahaidak and Lott to pick up four in the seventh end.

In the final end, Einarson and Gushue were able to run Sahaidak and Lott out of stones, picking up a 9-6 victory.

The win marks the first-ever mixed doubles national championship for both Einarson and Gushue, with Einarson becoming the first skip to win a Scotties and Mixed Doubles nationals in the same year.

"I never thought that I would win a mixed doubles title as well in the same year, it feels absolutely amazing," Einarson said after the game.

"Coming into this, I didn't expect this. [It] was my first time ever playing mixed doubles? I'm really proud of myself and Brad."

For Gushue, the win is a special one, considering all that has happened in the last year, concerning the COVID-19 pandemic.

"For me, the last year has been a challenge for everybody. To come here and have a disappointing experience at the Brier, [but] then to follow it up with a good performance here, it kind of makes up for a lot that's happened over the last year," said Gushue.

Despite a strong performance all week, Sahaidak and Lott were not able to get the momentum they needed, with the game becoming a bit of a runaway.

"I personally came out flat in that game, obviously the one game that you don't want to but it is what it is," Lott said after the game.

With the loss, Sahaidak and Lott claimed their second mixed doubles silver medal, after finishing runners up at the 2018 event.

While they are certainly disappointed with the result, Sahaidak and Lott are looking at the positives, considering the strength they displayed throughout the week.

"[With] the teams that we had to beat to even get to this point, it's huge. It shows that we can compete and we're there with the best of them," said Lott.
Einarson and Gushue will now become Team Canada at the 2021 World Mixed Doubles Championships, which is set for May in Aberdeen, Scotland. The pair will have a tall order, as Canada needs a seventh-place finish or higher to secure a spot in the 2022 Winter Olympics.

Despite all that rides on the team's performance at worlds, for Gushue, it's nothing he hasn't dealt with before.

"When you go to the Olympics, you understand the pressure of having the maple leaf on your back. So, that's far greater than I think anybody's going to face at a mixed doubles world championship. I certainly have dealt with it, and done ok."

The 2021 World Mixed Doubles Curling Championships will be held in Aberdeen, Scotland, from May 17-23. While not in a bubble, as has been used by Curling Canada, the World Curling Federation says they will create a "COVID-safe environment" at this year's event.