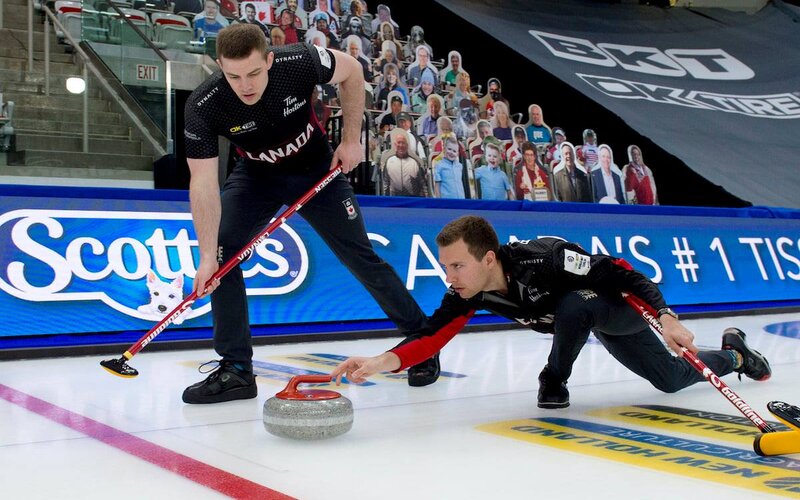 Brendan Bottcher (photo: Curling Canada) is off to a strong start at their first World Men's Curling Championship.

By: Dylan Chenier

It's still early days at this year's World Men's Curling Championships, but if Brenadan Bottcher keeps playing the way he has been, he's almost certain to be a threat for gold next weekend.

After three games, Team Canada is 3-0 at the Men's Worlds, a record which includes wins against curling powerhouse Scotland (Mouat), as well as Japan (Matsumura) and Denmark (Noergaard).

In their first game, against Scotland, Canada fell behind early on, but the team was able to rally back and beat Mouat 9-6. It's performances like that which will be critical to the team's success this week.

"I was really proud in that first game, that we battled back, and found a way to win. These wins early [on] matter just as much the ones a few days from now," said Bottcher.

For Bottcher, the performance represents his desire to play as best as he can, every single game.

"My goal every game we go out there is to play my absolute best and help my teammates play their absolute best. And when we do that, we win more often than we lose. And I think that's the process we've got to stick to this week."

Bottcher's team earned the right to represent Canada after winning last month's Tim Horton's Brier, the team's first victory after three straight second-place finishes.

While a Canadian championship certainly sets a team like Bottcher's up well for Worlds, there is still a bit of an adjustment between the two events.

"I think in the Brier there's just that familiarity factor, you know all the guys out there, you've played them [several] times a year on tour," said Bottcher. "A lot of the teams in this event, we've maybe played them a handful of times in our whole career as a team. There are a few teams out here I don't think we've ever played."

For Bottcher's second, Brad Thiessen, the feeling of representing Canada adds a different level to the experience.

"At the Brier, we're more used to representing our province, we've done that five times, now with [all of] Canada the feel is a bit different."

While COVID protocols make this year's event a unique experience, with no fans in the crowd, the team is still thrilled to have the opportunity to represent Canada on the world stage.

"It is a little unique not having [fans] here, but I just feel so supported from everybody across the country, even around the world, rooting for us. I really do have that feeling here, even though there's just the cardboard cutouts to cheer us on."

While Bottcher's rink certainly has their sights set on bringing home a gold medal, the team has the added pressure of securing Canada a spot in next year's Winter Olympics.

A top-six performance this week in Calgary would guarantee Canada a birth in the men's event in Beijing. Canada has never failed to qualify for the games.

While the Olympic qualification certainly adds a level of intensity to this week's event, Bottcher is not focused on that.

"I'm really trying not to focus on the bigger picture, just come out here and play our best every game."

Team Canada returns to action on Sunday, with games against Switzerland (de Cruz) and Netherlands (van Dorp).