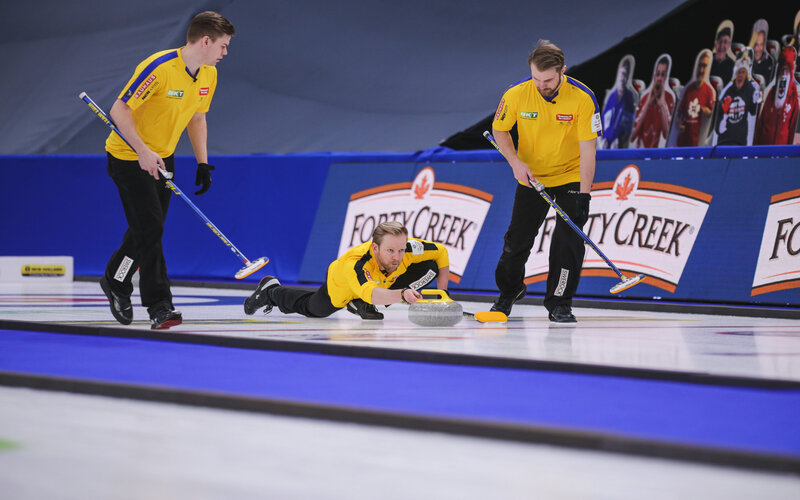 Sweden's Niklas Edin (Picture: WCF/Jeffery Au) are winners of the Penticton Nufloors Curling Classic, after defatting Ontario's Glenn Howard 5-4 in Sunday's championship final.

By: Dylan Chenier

The majority of the game was rather even split between the two rinks. After starting with hammer, Edin was forced to score one in the first end with Howard tying things up at one-a-piece in the second.

After two straight blanked ends, Edin scored another single in the fifth, taking a 2-1 lead.

In the sixth, Howard was left with an easy-open hit for two, scoring the first multiple-point end of the game.

A heavy shot by Howard in the seventh left Edin an easy draw for two, giving his team a 4-3 lead heading into the final end.

In the eighth, Howard was a little wide on his in-off double and could only score a single, tying things up at four and sending the game to an extra end.

Edin was able to make an easy draw for one in the ninth end, to take the game and the championship.


Nufloors Penticton Curling Classic (CF): Niklas Edin 5, Glenn Howard 4 [FINAL] https://t.co/GuHa8u9ric
#curling pic.twitter.com/GVcYnJ9OLO

— CurlingZone (@CurlingZone) October 17, 2021


Sunday's win capped off a perfect weekend for Edin with Oskar Eriksson at third, Rasmus Wrana at second and Christofer Sungren at lead, with the rink finishing pool-play at 5-0. They then got by Langley BC's Team Tardy 4-1 in the Quarter Finals, before defeating Winnipeg's Mike McEwen 5-2 in the Semis.

The win also marked the end of Howard's four-game undefeated streak against Team Edin, which started back at the 2019 Meridian Canadian Open.

For Team Howard, a deep run in Penticton is exactly what the team was looking for as they prepare for next month's Canadian Olympic Curling Trials.

Team Edin, who have already been named to Sweden's Olympic curling roster, will be back in action later this week at the Pinty's Grand Slam of Curling Master's in Oakville, ON.