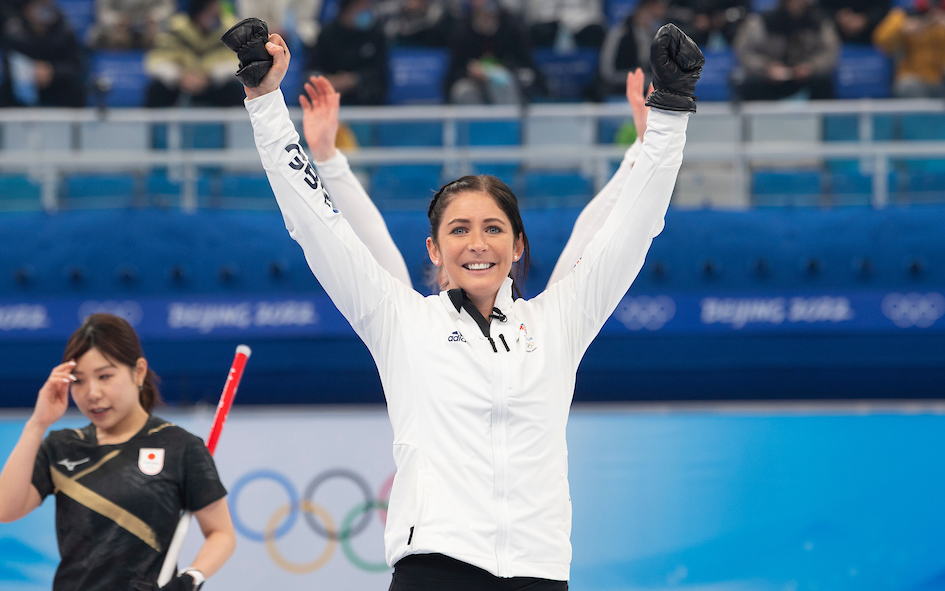 Eve Muirhead (photo: David Peace / Team GB) bows out of elite curling as reigning Olympic, European and World Mixed Doubles Champion as she announces her retirement from the sport.

Having won every title in the game since emerging from the Junior ranks, the 32-year-old claimed historic firsts in the early part of her career, including becoming the youngest skip to win a world women's title back in 2013 and a year later becoming the youngest skip to win an Olympic medal when she won bronze in Sochi.

Muirhead also skipped a team to success on the illustrious Grand Slam circuit, and her team were the first Europeans to win one of those events when they claimed the Players Championship in 2013.

The eight-time national champion has also been crowned European Champion three times. Her contribution to the sport resulted in an MBE in 2020 and further recognition for her services to curling in the most recent Queen's Birthday Honours earlier this year when she received an OBE.
"I do feel that this is the right time for me to retire from curling," she said, explaining her decision to call time on her career.

"I definitely didn't make the decision quickly, it took a lot of time to speak to people who are close to me and also to make sure that me myself was making the right choice and of course, retiring as European, World and Olympic Champion is something pretty special and something I never ever dreamt of."

She steps away from the competitive arena on the back of a momentous season which represented an astonishing response to a crisis.

Muirhead's future hung in the balance after her team failed, for the first time ever, to earn automatic Olympic qualification for a British men's or women's team, but she showed her leadership qualities as she rallied to come through a challenging innovative squad system to skip a new line-up to what was her own third European title, followed by victory at the Olympic final qualifying competition, then that gold in Beijing and she followed that by partnering Bobby Lammie to victory at the World Mixed Doubles Championship.

"There were a lot of other highlights too, from winning the Women's World champs in 2013 to the World Mixed Doubles just a few months ago, but I do think that after four tries at the Olympic Games to finally get that gold medal around my neck was really special," she said.

"I am the kind of person that if I do something I always do it with all my heart and I am fully committed. I never ever do something half hearted."

In departing the British Curling programme, following the retirements earlier this summer of two of her team - vice skip Vicky Wright and alternate Milli Smith - she paid tribute to the remaining two, Hailey Duff and Jen Dodds, who are setting out on the long road to the next Winter Olympics in Milan/Cortina in 2026 as she looked back over her time at the top of the sport.

"I think for my team mates who are carrying on into the next cycle of course it has been an absolute pleasure playing with them," said Muirhead.

"To win an Olympic gold medal along with other medals alongside Hailey and Jen are definitely memories that I will never ever forget.

"I would say the other career highlights for me are winning the World Championships, my European titles, and I guess my Olympic bronze medal (at Sochi in 2014), but another highlight that has to stand out is the (2018) PyeongChang Olympics, playing alongside my brothers. That was very special."

There were also words of encouragement for the next generation of British Curling athletes who will seek to emulate her achievements.

"My message to up and coming curlers from what I have learnt from the sport and for them going into the sport, it is a case of give it your all. I don't think anyone who cuts corners or takes short cuts makes it to the top," urged Muirhead.

"It is a team of four and you have to be in it as much as each other, and I think team dynamics is huge and you have to get on both on and off the ice. One thing that is important is that you have to enjoy it and have a laugh along the way, but you also have to trust each other as well and have respect for one another.

"There have been some tough times for myself, one coming on the back of the World Champs last year when we didn't qualify Great Britain that Olympic spot at the Beijing Games.

"Of course there were times after that when I wanted to hang up my curling shoes and I didn't want to carry on. It was hard, but I managed to pull myself through with help and speaking to people who are close to me.

"You have to cherish the victories you get and make sure you celebrate them because they don't come easy and they don't come every single day and of course I would like to leave a legacy of what I have done and I guess on the back of what Rhona Martin achieved 20 years ago winning her gold as well.

"I do think the sport has changed over that period, and I am glad to have been part of that, and the next chapter of my life is just beginning. All I have really experienced is just school and curling, and I am very scared but also very excited about what the future holds."

Among those now entrusted with building on Muirhead's achievements, Olympic gold medal winning lead Duff outlined the influence her retiring skip has had on the sport.

"I was a teenager when I first met Eve in Perth, and she was training on the sheet next to me, and I was totally star-struck," said the 25-year-old.

"She has been one of my biggest inspirations, and she was my go to person at my first Olympics, and her fourth, and I learnt so much from her.

"I will always remember her resilience and ability to push through those hard times and her on-ice demeanour in Beijing which put us all at ease and created the right environment for us to pull together and win gold. I know that will help me in my career, and I hope to teach others what she has shared with me.

"She has been at the top of the game for so long now, and she made us all want to be better and spurred us all on to reach higher standards. She will be greatly missed and will continue to inspire future generations and those who are already at the top of the game in British Curling now. That has been her impact."

British Curling's Executive Performance Director Nigel Holl meanwhile placed Muirhead's career in its full context in observing that: "Eve Muirhead will go down in history not only as one of the greatest ever British curlers, but as one of the greatest sportswomen this country has produced.

"The attitude that has allowed Eve to claim every honour in her sport with a wide array of team mates over four Olympic cycles could not have been better exemplified than in the way she responded to the greatest challenge of her career," he continued.

"From the disappointment of missing out on automatic qualification for the Beijing Olympics, she became an integral figure in the re-building process which brought about an extraordinary run of success including winning her third European title on her way to skipping Team GB to gold at the 2022 Winter Olympics.

"It was a turn-around which only the most robust of competitors could have achieved and, as a wonderful ambassador for our sport, she deserves all the tributes that she will most certainly receive on announcing her decision to retire from our sport."