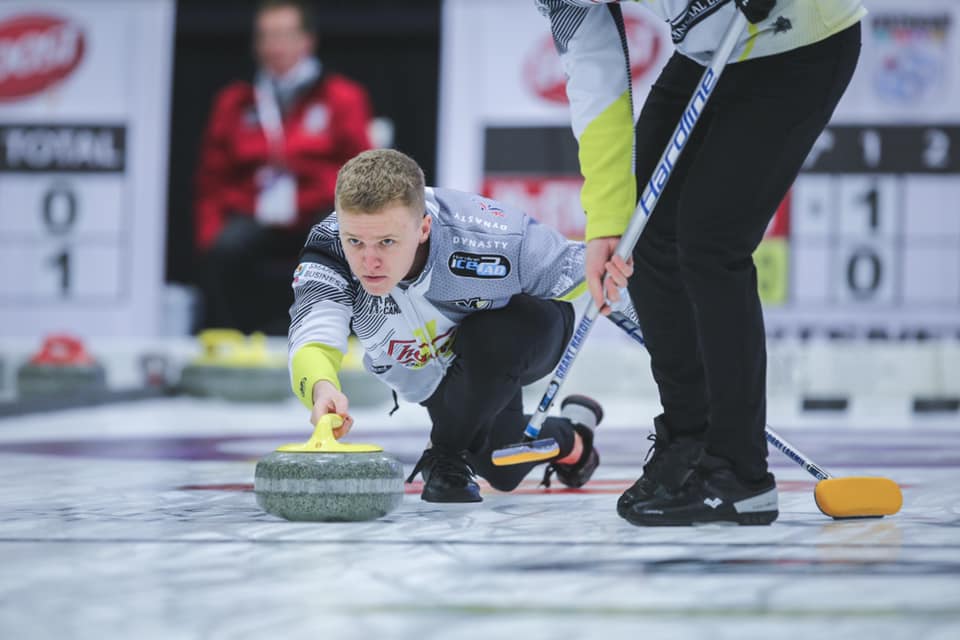 Bobby Lammie (photo: Anil Mungal, GSOC) injury has Mouat playing three-handed for last Grand Slam of season.

Newly crowned world champions Team Mouat will end their "roller-coaster" season as it began as they head into a Grand Slam event having to cope with an injury suffered by their number two, Bobby Lammie.

Bruce Mouat, Grant Hardie and Hammy McMillan will start The Champions Cup as a three-man team after the man who is widely considered to be the best sweeper in the world game suffered a calf injury in the build-up.

However, there is a chance that Lammie could return to action if they can stay in contention until the latter stages of the event and vice skip Hardie says they are determined to do so.

While Mouat has just completed another epic journey, heading to Korea to contest the World Mixed Doubles Championship in Korea immediately after the last Grand Slam event – The Players Championship – which took place the week after their World Championship win, the other three re-charged their batteries with a holiday in the USA.

"Bruce really hasn't had a chance to rest at all after the mixed doubles, but it's been really good for the three of us to go and switch off for a bit and really digest what we'd achieved at the Worlds," said Hardie.

"So, all's good with us. We had a great trip to America and saw a lot of new places which was fun, but we're really looking forward to finishing off the season now."
He admitted that the disappointment of failing to win a match at The Players Championship in the week following what was their first World Men's Championship success, is acting as extra motivation in Saskatchewan this week.
"It would have been easy to have switched off already, but after the disappointment at The Players Championship, we'd really like to come out and finish with some decent performances," said Hardie.
"It's obviously going to be tricky because, as we saw at The Players', we were just slightly off our game there, a little tired and we got punished by every team we played.
"We also have that added challenge this week because Bobby is probably not going to be able to play all week.
"He's improving, so there's a small chance he's going to be able to play at the end of the week, but that's going to be a new challenge for us."

Having begun the season with Lammie sidelined due to a broken hand they are, remarkably, currently ranked no.2 in the world and are within range of finishing the season in top spot if they can somehow produce another big week, but their vice skip reckoned that would be a bonus.

"That probably sums up the season," said Hardie.

"We've had incredible highs at the Europeans and the Worlds, but we've had several challenges and this is just another one that we're going to have to manage, but hopefully it doesn't hold us back too much.

"The number one ranking is not something we've looked at or discussed.

"With taking a bit of a lighter schedule this year, combined with the fact that Bobby's now had a couple of different injuries and we've had a few competitions where we've not qualified for the play-offs, it's been a bit of a roller-coaster year, so the world rankings probably aren't something that's weighing too heavily on our minds at the moment.

"We're just looking to finish strong, enjoy the last competition and then we're certainly all looking forward to a rest this summer."

They open their campaign in the 12 team Champions Cup against the USA's 2018 Olympic champions Team Shuster and are in a pool which includes another US team, skipped by Korey Dropkin, who with Cory Thiesse beat Mouat and Dodds in the play-offs on their way to winning the World Mixed Doubles title last week, Sweden's reigning Olympic champions Team Edin and two Canadian line-ups, Teams Bottcher and Knapp.

In the other pool their fellow Scots Ross Whyte, Robin Brydone, Duncan McFadzean and Euan Kyle open up against Italy's Team Retornaz and will also meet four of the host nation's representatives Teams Carruthers, Dunstone, Ferris and Gushue.