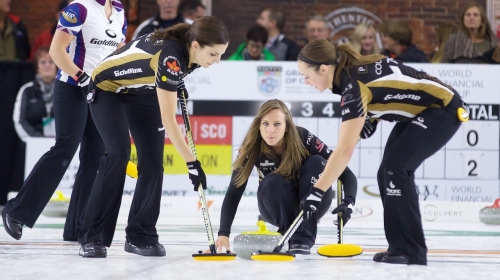 Rachel Homan (Ottawa, ON) wins the Curlers Corner Autumn Gold Curling Classic, defeating Nina Roth (Blaine, USA) 6-4 at the Calgary Curling Club in Calgary, Canada. Homan with Emma Miskew at third, Joanne Courtney and Lisa Weagle on the front end take home the $13,500CDN first place cheque along with 68.615 world ranking points, while Roth receives $9,500CDN and 53.912 world ranking points for their second place finish.

After Homan opened the scoring stealing 1 in the first end, Roth responded in the second end scoring 2. Homan scored a single in the third end, then added a steals in the fourth and fifth ends. Roth scored 2 in the sixth end to tie the game at 4, after Homan scored 2 in the seventh end and then held on for the 6-4 win running Roth out of rocks.

In the semifinals, Homan defeated Chelsea Carey (Calgary, AB) 6-4 and Roth defeated Darcy Robertson (Winnipeg, MB) 8-3. Robertson and Carey earned $6,000CDN and 41.659 ranking points for their semifinal finishes. In the quarterfinals, Homan defeated Jennifer Jones (Winnipeg, MB) 9-6, Roth won against Casey Scheidegger (Lethbridge, AB) 9-0, while Robertson defeated Kelsey Rocque (Edmonton, AB) 6-5 in an extra end and Carey defeated Jamie Sinclair (Blaine, USA) 5-1. Rocque, Sinclair, Scheidegger and Jones earned $4,000CDN along with 29.406 ranking points for their quarterfinal finishes.

Homan went 5-1 in the 32 team triple knockout qualifying round. In their opening game, Homan defeated Kayla Skrlik (Calgary, AB) 3-2, then won against Diane Gushulak (New Westminister, BC) 7-5, losing their next game to Carey 6-3, then responding with a 9-0 win over Daniela Jentsch (Fuessen, Germany). Homan won against Cory Christensen (Blaine, USA) 6-2, and defeated Scheidegger 5-3 in the B Qualifier match.